ALL INDIA BANK OFFICERS' ASSOCIATION
Circular No.16/VII/2019
September 12, 2019
To:
ALL UNITS / STATE COMMITTEES
Dear Comrades
STRIKE BY FOUR OFFICERS' ORGANISATIONS
ON 26TH AND 27TH SEPTEMBER 2019.
As decided in the Secretariat meeting on 09th September, at Bengaluru was presented through a communication to UFBU convenor.
2. In the meeting held at New Delhi yesterday, there were discussions on the items listed in the agenda. Our organisation was represented by Com.Vinod Bakshi, Vice President, Com.Sanjay Khan Secretary and the undersigned.
3. Though there was near consensus on the issue of launching an agitation against the mega mergers announced by Govt of India on 30th August, 2019, due to certain positions taken by the constituents of UFBU, Four Officers' Organisations, after mutual consultations, decided to observe 2 days strike on 26th and 27th September 2019, focusing on the issues:
Ø Opposing Merger of Banks and
Ø Demanding settlement of wages and other issues.
4. The strike notice addressed to Chairman IBA is sent herewith for the information and necessary action. Make all out preparations to make the strike successful.
The detail programme will follow in due course.
Yours Comradely,
/S.NAGARAJAN/
GENERAL SECRETARY.
ALL INDIA BANK OFFICERS' CONFEDERATION (AIBOC)

ALL INDIA BANK OFFICERS' ASSOCIATION (AIBOA)

INDIAN NATIONAL BANK OFFICERS' CONGRESS (INBOC)

NATIONAL ORGANIZATION OF BANK OFFICERS (NOBO)

STRIKE NOTICE/ 2019/01 Camp: New Delhi

12th September 2019

FORM – 1

NOTICE OF STRIKE

NAME OF UNIONS: ALL INDIA BANK OFFICERS' CONFEDERATION (AIBOC)

ALL INDIA BANK OFFICERS' ASSOCIATION (AIBOA)

INDIAN NATIONAL BANK OFFICERS' CONGRESS (INBOC)

NATIONAL ORGANIZATION OF BANK OFFICERS (NOBO)

NAMES OF ELECTED REPRESENTATIVES

1 Shri. Soumya Datta, General Secretary, AIBOC

2 Shri. S. Nagarajan, General Secretary, AIBOA

3 Shri. K.K. Nair, General Secretary, INBOC

4 Shri. V V Tikekar, General Secretary, NOBO

Dated the 12th September 2019

To

The Chairman

Indian Banks' Association

World Trade Centre, Cuffe Parade

Mumbai

Sir,

In accordance with the provisions contained in sub-section (1) of Section 22 of the Industrial Dispute Act 1947, we hereby give you notice that 4 Officers' Trade Union Organizations as stated above, propose to go on CONTINUOUS STRIKE from Midnight of 25th September to Midnight of 27thSeptember 2019 and INDEFNITE STRIKE from second week of November 2019, on the following issues:

Opposing

1

Mergers &Amalgamations in banking sector

Demanding:

2

Expeditious Wage revision as per Charter of Demands, with an unconditional and clear Mandate from all banks

3

Immediate introduction of 5 day week in full, Reduction of cash transaction hours and regulated working hours.

4

Halting of undue interference in the existing procedure of Vigilance cases by outside agencies, under provisions of amendedSec.17(A) of Prevention of Corruption Act, 2018

5

Settlement of issues pertaining to retirees-Updation of Pension as per RBI formula/Revision of Family Pension without any ceiling, quantum and percentage; Medical Insurance at par with serving employees

6

Adequate recruitment

7

Scrapping NPS and reintroduction of Defined Pension Payment Scheme.

8

Reduction of service charges for customers

9

Stopping of harassment of Officers under specious plea of non-performance
The Statement of the Case is appended.
Yours sincerely,
/ sd./
(Soumya Datta)

(Nagarajan S)

(K K Nair)

(

Viraj V Tikekar

)

General Secretary

General Secretary

General Secretary

General Secretary

AIBOC

AIBOA
INBOC

NOBO
Encl: 1. Statement of the Case
Copy to:
1. Chief Labour Commissioner (Central), New Delhi
2. CMDs/MDs/CEOs of all Banks
3. Chief Executive, IBA, Mumbai
4. The Secretary, Department of Financial Services, Govt. of India
5. The Joint Secretary, DFS for RRBs
1. STATEMENT OF THE CASE
Whereas Settlement/Joint Note was signed by the Indian Banks' Association with the employees'unions and officers organisations in the Banks on 25-05-2015 covering revision of wages and improvements in other service conditions for the period from 1-11-2012 to 31-10-2017 and
Whereas the operation of the said Settlement/Joint Note was to end by 31-10-2017 and
Whereas the need would arise to revise the emoluments and service conditions with effect from 1-11-2017 and
Whereas the Unions and Associations submitted common Charter of Demands to the Indian Banks Association in February, 2017 and May, 2017 with a plea to the IBA to take up the demands for discussions and early resolution so that the revised pay scales, allowances and service conditions can be implemented from the due date i.e. 1-11-2017 and
Whereas, having regard to the delay in negotiations and finalising the Settlements in the past, as early as 12-1-2016, the Department of Financial Services, Ministry of Finance, Government of India advised all the Banks as well as the Indian Banks Association to initiate the process of wage revision and conclude it prior to the effective date i.e. 1-11-2017 and
Whereas having regard to avoid the delay in arriving at a settlement, the Department of Financial Services, Ministry of Finance, Government of India reminded the Banks and IBA several times with their reminder communications to complete the wage revision process without delay and
Whereas the IBA commenced the discussions with the Unions on 2-5-2017 with the assurance that the discussions would be completed by October, 2017 and
Whereasin the Conciliation Meetingheld on 28.05.2018 CLC(Central) had directed that existing system of settling the wages for officers upto scale 7 to be continued and
Whereas the Negotiating Committee of the IBA held negotiations with the Unions on various dates, the latest being on 29th August 2019 and
Whereas, in every round of negotiation, United Forum of Bank Unionsunequivocally demanded that IBA should ensure that all its member banks submit unconditional mandate for facilitating meaningful discussion and
Whereas five member banks viz., State Bank of India, Punjab National Bank, Bank of Baroda, Union Bank of India and Indian Bank have given fractured mandate to IBA for wage negotiation. Despite the fact that the majority of the Banks had already submitted 'unconditional mandate', IBA was neither agreeing for any meaningful discussion as per charter of demand and up to scale VII nor was making effort to ensure that the left over banks also submit the 'unconditional mandate' and to substantiate their offer, IBA stated that the financial positions of our Banks are not conducive to offer better wage revision and that the Banks profits have been eroded in the recent years
Whereas in the last meeting held on 29th August 2019, IBA has clearly indicated that the mandate issue is linked to acceptance and introduction of PLP/PLI.
Whereas, there have been several attempts to create a smoke screen to divert attention from the real issues that continue to surround and plague the banks. The core issues are highlighted as below:
| | |
| --- | --- |
| 1 | Mergers & Amalgamations in banking sector |
| 2 | Expeditious Wage revision as per Charter of Demands, with an unconditional and clear Mandate from all banks |
| 3 | Immediate introduction of 5 day week in full, Reduction of cash transaction hours and regulated working hours. |
| 4 | Halting of undue interference in the existing procedure of Vigilance cases by outside agencies, under provisions of amendedSec.17(A) of Prevention of Corruption Act, 2018 |
| 5 | Settlement of issues pertaining to retirees-Updation of Pension as per RBI formula/Revision of Family Pension without any ceiling, quantum and percentage; Medical Insurance at par with serving employees |
| 6 | Adequate recruitment |
| 7 | Scrapping NPS and reintroduction of Defined Pension Payment Scheme. |
| 8 | Reduction of service charges for customers |
| 9 | Stopping of harassment of Officers under specious plea of non-performance |
1. Mergers & Amalgamations in banking sector:
We strongly oppose and protest the Government's move of merger/consolidation of Public Sector Banks, which was announced on 30th August 2019. In the name of consolidation, number of Banks are being reduced. The advantages have been misquoted. Just adding two balance sheets will not make a resultant balance sheet stronger. It is very evident, from across the experiences globally, that bank mergers have never been a success. On the otherhand, M&As create huge organizations, too-big-to-manage and have a detrimental effect on the economy as a whole. In the garb of branch rationalization, branches will be closed. We have seen this when Associate Banks were merged with State Bank of India. In the name of rationalization, right-sizing of human resources, Voluntary Retirement is offered, which is nothing but instigated termination of services and loss of employment to millions who are directly or indirectly connected with the Public Sectors Banks. In addition, such situation creates humungous pressure on the officers & staff continuing in service as they have to manage the work-load of voluntarily retired personnel. These will have cascading effect on customer services and deprive banking facilities to the common and needypopulace.
M&Amonopolises banking environment in the country. Every monstrous component of monopolistic environment surface and affects customers – like depriving banking next door, rise in charges and fees, fewer banks, fewer products, less competition and ultimately, customer service. The mergers would result in driving the loyal customers of public sector banks into the fold of new generation private sector banks and NBFCs, which would be inimical to the interest of the common man as they will have to shell out more for basic banking services.
The core problem faced by the Indian banking industry is the enormous pile up of NPAs that have accumulated on account of faulty lending practices and the absence of any effective strategy to recover the amounts from corporate houses and large borrowers. The much publicized Insolvency and Bankruptcy Code (IBC) process has notsucceeded in recovering NPAs. On the other hand, it has resulted in substantial haircuts, leading to losses in banks. The absence of strong penal action against the corporate willful defaulters and fraudsters reflect the lack of political will on the part of the Union government and exploitation of inherent system weaknesses by large borrowers than anything else.
In this backdrop, the announced merger/amalgamation of public sector banks is nothing but a diversion away from the core issue of NPA recovery and the overall economic situation of the country. Mergers cannot resolve or clean up the balance sheets; rather the NPAs of the merged entities would simply add it up. The improvement in certain ratios, if any, would amount to mere financial engineering and a mis-adventure, without resolving the actual problems.The recent experience of merger of the SBI Associates with the SBI has already led to humongous losses and NPA accumulation subsequent to merger. Yet, the Finance Ministry seems to have learnt no lesson from it. In a note to the parliamentary Estimates Committee on Bank NPAs, former RBI Governor Dr. Raghuram Rajan had termed bank mergers as a "non-solution" to the NPA problem.
The organizational disruption arising out of mergers would relegate every other activity to the backstage. Banks involved have toinvest theirprecious time to do fire-fighting for next few years, in order to integrate personnel, processes and proceduresadversely affecting other banking activities. Mergers will result in different classes of officers & staff within same organization. The industrial relations within the bank is bound to affect not only the officers & employees, but ultimately the very functioning of bank. The announcement of mergers will definitely derail the ambitious $ 5 trillion economy of the government as Public Sector Banks are expected to drive the growth engine.
Hence, taking into consideration the overall welfare of the people of our country and towards building a healthy economic environment, we urge that mergers, amalgamation, consolidation and any such proposals be scrapped.
2. Expeditious Wage revision as per Charter of Demands, with an unconditional and clear Mandate from all banks
Negotiations have not been carried out on the lines of the Charter of Demands submitted by us, which is based on minimum wages concept. IBA has not shown inclination, in letter and spirit, to conduct meaningful negotiations based on the basic principles on which our Charter of Demands were arrived and submitted – i.eminimum wages concept, delinking from paying capacity, equal work-equal wage, external parity, spirit of Pillai Committee Report to restore parity with civil service officers, against unscientific categorization of branches, to provide conducive and globally accepted norms in working environment to women officers, uniform perks and facilities in the Industry,improvementand updation in pensionto ensure a decent retired life to the officers, running scale of wages, rolling back to bank-level 100% medical reimbursement facilities for officers and the dependents etc. With utter dismay, it is being observed that the negotiation is being attempted by IBA completely bypassing what is stipulated in the charter of demand. Rather, new-fangled words/ other extraneous factors viz. Performance Linked Pay based on gross operating profits and Return on Assets are being tabled. We demand wage revision only as per the charter of demand submitted.
Most of the member banks have already given unconditional mandate to IBA. This has been the practice since 1979 when the uniform regulations on officer's wages and service conditions were introduced. From 1979, on 7 consecutive occasions, i.e in 1984, 1989, 1995, 2000, 2005, 2010 and 2015, Joint Note Agreements have been signed by IBA with Officers' Associations covering wage revision for all scales of officers from Scale I to Scale VII. Officers' regulations, which deals with wages and service conditions of officers is a composite Regulation covering all scales of officers and excluding Scale IV to Scale VII Officers is unfair. The fact that the majority of the member banks have submitted the unconditional mandate is ignored by IBA. IBA instead of persuading five member banks viz State Bank of India, Punjab National Bank, Bank of Baroda, Union Bank of India and Indian Bank, has been indifferent towards our logical demand and taken stand to restrict the wage revision up to Scale III. No perceptible initiative is observed from IBA to impress upon the remaining member banks for submitting the unconditional mandate. The regressive approach of IBA would cause disruption and divide among employees, which will not augur well for the Indian Banking Industry. Moreover, this approach of the IBA will directly have disastrous impact in the livelihood of lakh of employees. This uncalled-for attitude of IBA would never benefit any stakeholder in the banking industry. Hence, we demand IBA to initiate immediate action resulting in submission of unconditional mandate by all the remaining member banks
In the light of the ambitious $5 trillion economy, the Bank officers are expected to a major role in driving the growth engine and have to shoulder humongous workload to fulfil such expectations, which they have been doing despite acute shortage of manpower and other constraints. It is the bank officers who are implementing all the schemes of the government through their dedication, diligence. Hence, we demand that bank officers deserve equity and justice.
3Immediate introduction of 5 day week in full, Reduction of cash transaction hours and regulated working hours
The 4 officers organisations have submitted a substantiated, logical reasoning for introduction of 5 Day week Banking. Across the globe 5day week is a norm. Even in our country, most of the progressive, forward-looking corporates, organizations, Government and quasi-Government Organizations have been functioning 5 day a week, which enables the officers and employees to have balanced work life so that they are motivated and can contribute significantly.
With the focus on digital banking, Alternate channels, Internet Banking, POS facilities, on-line payment systems, the introduction and 5 day week and reduced cash transaction hours will lead to the augmentation of digital transactions. As such, declaring remaining Saturdays as holidays will have no impact.
Now, banks are conducting cash transactions till one hour prior to close of office hours. Thus, the branches are left with only one hour to aggregate, verify and complete the process of cash counting, re-counting and lodging into the vault. This has a telling effect on closure of the branches for the day, elongating working hours of officers, constraining them to overstay in the branches. Now a very substantial numbers of bank branches are single officer branches. Till the closure of cash, officers will be constrained to handle cash related transactions and is confined to the desk, depriving of much required attention to other areas like lending, business development and compliance related work.
Now that ATMs have been deployed in every part of the country with high density, digital banking like internet banking, mobile banking has occupied pivotal place in transactional banking. Further, the Government's has been propagating digital and electronic banking in a big way to reduce the importance and volume of physical cash transactions. In keeping with these, it would be in fitness of things to reduce the cash transaction hours to 4 hours. This will have the following advantages:
a. Dependency on cash in the society will be reduced
b. Citizenry will adopt better and faster digital, electronic mode of banking
c. Will bring down the cost of operations of banks, paving way for reduced service charges
d. Will bring down the cost of printing currency and its management by Reserve Bank of India
e. Provides much needed time to operating functionaries to complete the day's work well on time.
f. Enables officers to engage themselves in compliances and business development activities.
While the office hours of banks are well defined, officers have been subjected to unregulated working hours. Each officer in the industry is made to work unreasonably beyond office hours. While it is an accepted international norm that one cannot work efficiently, applying mental faculty, beyond 8 hours, officers are forced to work for 10-12 hours a day, exposing not only the officers to health risks, but also multiplying the consequential operational risk tothe banks. Longer working hours have negative impact on the level of performance, quality of decision, culture of the organization and the industry, in addition to enslaving him to work, discarding familial and social obligations.
IBA/Government has not shown any demonstrative inclination on the issue.
4. Halting of undue interference in the existing procedure of Vigilance cases by outside agencies, under provisions of amendedSec.17(A) of Prevention of Corruption Act, 2018
PCA Amendment to Sec 17 (A) provides that police cannot initiate any enquiry against any person unlessauthority competent to remove him from his office, at the time when the offence was alleged to have been committed, conveys its approval. This aims to protect a person against any harassment, mis-placed complaints, false-allegations etc.
Defeating its own Amendment,instructions have been issued by the Government that in all cases where a disciplinary proceeding has been classified under Major Penalty proceedings, approval be accorded for initiating enquiry by investigating agency as a matter of routine. This is not in order. This is misplaced and sends a wrong signal to the officers and staff who deal with and take financial decisions.
Our reason for objecting this is well substantiated. Classification of any case of mis-conduct is carried out based on the internal circular instructions, and investigations from the point of view of compliances of laid down norms, than on any strong evidence as is expected in a criminal investigation. The objective of internal enquiry is entirely in divergence with the one done by police/investigative agencies and is not fool-proof. Further, classification of cases into major and minor is based on the broad thinking and from the perspective of the executives, who would have acquainted with the case based only on the report submitted by an officer of the bank, who certainly lacks the skill and depth of an investigative agency and is one sided-affair.
.
5.Settlement of issues pertaining to retirees-Updation of Pension as per RBI formula/Revision of Family Pension without any ceiling, quantum and percentage; Medical Insurance at par with serving employees
Retirees of the banking Industry are worst hit. Their basic pay is frozen on the date of superannuation, and is never revised in subsequent Bipartite settlements. Worst kind of discrimination is prevailing amongst different groups of retirees in the matter of payment of Dearness Allowance. Pension on Special Grade Pay is denied. Family Pension to the spouse of the deceased employees is too meagre to lead a minimum level of dignified life. Although Bank Pension Regulations are framed on the lines of RBI/ Central Government Pension Scheme, no steps have been taken to remove the discrimination and place it at par with RBI/Central Government employees. A section of SBI pensioners are denied pension @50% of Basic Pay. These issues were noted in the Joint note dated 25/05/2015 signed by all parties in the settlement but no forward moving steps have been taken so far to address the issue. Similarly, a meaningful medical insurance scheme needs to be introduced to take care of the ones who have contributed their major part of their life to the Organisation, show due respect and regards.
Steep increase in medical insurance premium:Regarding Medical facilities for the retirees ourobjections have been that:
· The policies for serving employees and Retirees have not commenced from a common date as was suggested.
· Retirees have not given multiple options to choose from i.e. coverage of Rs 1 lakh, Rs 2 Lakh, Rs 3 lakh and Rs 4 lakh to broaden the coverage of the policy. This flexibility needs to be extended for the super top up policy also.
· The premium imposed for medical treatment in respect of officer retirees is absolutely unfair, illogical and unacceptable. It appears that this pricing has been fixed in such a manner so as to drive away the retirees from the purview of the scheme. This issue requires immediate intervention and suitable initiatives to be taken for logical reduction of premium.
· Our suggestion for lesser premium rate for single beneficiary like family pensioners, etc. has been ignored.
· IBA should send communiqué to all Banks to subsidise/bear the Insurance premium of Retirees as is done for EDs/MDs of Banks as most retires are likely to face extreme difficulty in arranging funds for the renewal.
· IBA may advice member banks to give interest free loans to retirees recoverable in easy instalments for payment of premium.
Our other suggestions were that a comprehensive affordable health care policy covering the interest of bank men (both Serving & retiree) should be negotiated upon. It is also suggested that instead of annual renewal, the policy should co-terminate with the validity of wage settlement period with further provision of renewal on payment of pro rata premium post termination of policy date and delay in finalisation of future wage accord. IBA should also approach the Ministry of Finance to exempt GST on Banks health care policy being a part of staff welfare measure not strictly falling within the definition of business transaction. IBA has not addressed the issues raised by us and unilaterally implemented the revised scheme.
6.Adequate recruitment
There has been no meaningful recruitment in keeping with the requirement of the Banks for the past three decades, despite our demands, taking up the issue with IBA and Government. While business has been growing, the staff strength has been dwindling. This decade is termed as decade of retirement. Large number officers and staff have retired, and are retiring. Any further delay in recruitment obstructs capacity building and vacuum will be created. Knowledge bank within the bank is likely to dwindle, eventually leading to failure of banks.
Further inadequacy of human resources has led to humungous pressure on the Officers & staff. Unbearable work pressure has become cause of discomfort, inconvenience and even suicides. It is a matter of deep concern to observe the increasing trend of suicides committed by the officers in banks. Over 100 such incidents are being reported every year, especially youngsters. There are many reasons for the unbearable pressure in working environment. Unrealistic business targets, inadequate staff, protracted working hours, denial of social life, pressure of work on holidays, atrocious behaviour of executives, inhuman treatment, extra-ordinary pressure to sell third party products, etc have made officers to reach a point of dejection. Demands for a meaningful work-life balance, regulated working hours, 5 day week to rest, recuperate and rejuvenate which could be best possible measures against suicide attempts have not been implemented despite persistent demand. It is demanded that for every case of suicide the board to the banks should conduct an independent enquiry and stringent penalty to be inflicted to anyone who is found to be responsible for such unfortunate occurrences.
Clerical to Officers' Ratio has been at abysmally low level. Non-augmentation of human resources has been mother of all problems, which has deep ramification on business, recovery and customer service, in addition to worrying incidence of suicides of bank officers
7. Scrapping NPS and reintroduction of Defined Pension Payment Scheme
Pension under National Payment System (NPS) is not defined pension and hence uncertain. In existing Pension scheme in Banking Industry, Pension is pre-determined. But in NPS, while contribution is determined, the return is not defined. It depends on the capacity of the fund to generate return causing frustration amongst the post April 2010 recruitees. In NPS, an employee has to indicate his risk appetite at the time of joining in the fund viz. Low risk, Medium Risk and High Risk. But as no switching is allowed, and the performance of the fund may vary depending upon risk pattern indicated at the time of joining, the market behaviour will determine the Pension to be received by an employee. Further, the contribution is made @10 % of Basic Pay + DA of the concerned employee leading to a huge accumulation of fund. But the rate of return on any established fund sometime shows negative return over a time horizon leading to apprehension that at the time of retirement the corpus fund may not be sufficient to generate a pension benefit befitting the living standard at that particular time. Pensionery benefits are vital for the leading a dignified life post-retirement and should not be left to the vagaries of capital market. Removal of uncertainty is pre condition for ensuring whole hearted alignment with job and for this superannuation benefit should be defined. There has been no initiative on the part of IBA and Government to review NPS.
8. Reduction of service charges for customers
Post-computerisation, with expanding customer base, increasing business volume,it was expected that the banking services would become more affordable. On the contrary, the service charges imposed on the customers for various services, including non-maintenance of minimum balances, ATM transactions etc have sky-rocketed. Common man of the country is put to inconvenience. Banks are now being looked as profit-mongering with and injudicious in recovering hundreds of crores as minimum balance charges etc. Banks have been running reputation risk as this is portrayed by media, resulting in customer dissatisfaction. In a country where majority of population continue to be agriculturists, small businessmen and working class, less-privileged, it is in the fitness of things that banking should be made more affordable by reducing service charges for customers. It is an irony that banks do write off lakhs of crores of large borrowers, but the common man is squeezed by levying unreasonable service charges and fees.
9.Stopping of harassment of Officers under specious plea of Non performance
It is noticed that few banks have been issuing communication to list out the non-performance and harassing them. It is a well-known fact that performance just not depends upon Officers. Performance is sum and substances of opportunity, economic conditions prevailing in that geography, required support, infrastructure and necessary human resources made available. Under these circumstances, isolating the officers, issuing letters not only demoralizes, but also put them in to discomfort and agony. We urge that harassment of officers should be stopped on the plea of non-performance.
==========================================================================================
Circular No.15/VII/2019
September 9, 2019
TO
ALL UNITS / STATE COMMITTEES
Comrades,
DECISION OF THE SECRETARIAT MEETING
The events are overtaking our industry. Government moves are forcing us to take serious and effective trade union actions. Bad loans are increasing in the new cycle of crisis of the slowdown syndrome in our country. Current climate of wage revision is not conducive for the present and future workforce in our industry.
In this background, our secretariat met at Bengaluru today to discuss issues confronting the industry and also the workforce. AIBOA Karnataka State Committee provided the facilities to host the meeting. Com M A Srinivasan, DGS was granted leave of absence due to an unexpected situation in the family front.
Merger of Banks, current wage revision, attacks on Officers in various banks in various forms, new proposal – PLP/PLI were the issues listed and discussed threadbare by participant Office Bearers and special invitees from the host unit.
It was unanimously decided to adhere to the following programmes/actions:
1) 1] MERGER OF BANKS: The present case of the writ filed in the High Court which is resting at the highest court of the country should be pursued with required urgency. If need be, to be tested under Article 32 of the constitution.
2) 2] PLP/PLI: On wage revision it has been decided to reject the proposal in toto before the proposed committee and submitting our view points in writing.
3) 3] Attacks on Officers: Regulation 20 (1) and list of non-performers in the banks (Union Bank of India, Syndicate Bank, OBC etc.,) to be opposed.
4) 4] Govt of India's instructions to refer all departmental enquiries having vigilance angle to CBI under Prevention of Corruption Act, a new threat to field level functionaries to be withdrawn as there are settled cases by the highest court.
PLAN OF ACTION: MERGERS
AIBOA should chalk out the following independent programmes to be undertaken by State Committees:
a) Postering campaign
b) Press conference by State Committees on a particular date throughout the country.
c) Communication by email to all MPs
d) Letter to President of India
e) Leaflet to be released to spread the message
f) Campaign through social media by AIBOA Central Office

In the meanwhile, since the UFBU is scheduled to meet at Delhi on the 11th Sep 2019 to decide the issue of PLP/PLI, it is decided to place on record the grass root level feelings to resort to agitational programmes as the situation has undergone seriously altering the expectation.
A meeting of the Presidents and General Secretaries of our affiliates in the nine banks that are in the merger process will be held in Chennai on the 19th Sep 2019.
Comrades, the programmes of action decided by us are to be taken forward with all required seriousness and urgency. It is time to turn the tide to save the central nerve system of the country. Let us perform the national patriotic duty of retaining the public sector character of banks intact.
With fighting greetings,
Yours Comradely
/S NAGARAJAN/
GENERAL SECRETARY
---
Circular No.14/VII/2019
August 29, 2019
Camp: MUMBAI
To:
ALL UNITS / STATE COMMITTEES
Dear Comrades,
WAGE REVISION DISCUSSIONS WITH IBA.
One more round of discussions on wage revision was held at Mumbai to-day at IBA office, Mumbai, after a lapse of more than two months. All the nine constituents have participated in this round of discussion. Our organisation was represented by the undersigned.
2. IBA team was led by Shri.Rajkiranrai, Chairman Negotiating Committee (UBI), Shri.Prashant Kumar, DMD/CFO SBI, Shri.Alok Kumar Choudhary SBI, Shri. R.K.Sharma MD&CEO, IDBI, Shri.V.G.Kannan CEO IBA, Shri.B.Rajkumar Dy.CEO. IBA, Shri.S.K.Kakkar Sr.Advisor IBA, Shri.K.S.Chauhan Advisor IBA besides officials of personnel department of IBA.
3. The Chairman Negotiating Committee, while initiating the discussions expressed happiness of participation of all unions in the meeting. He recalled the earlier discussion in a quick review: viz. Fixed Pay 10% + variable pay 6% ; mandate issue still kept open up-to Scale V; decision on variable pay to be arrived at as the future recruitment will be cost to company model. Reacting to the quick review the representatives made it abundantly clear that the offer of 10% Fixed Pay is unacceptable and far below the expectation of the entire workforce; the concept of variable pay can be discussed separately; mandate issue needs to be resolved necessarily and there cannot be a precondition to the discussion. Further the common issues like 5 day week, Family Pension and Up-dation of Pension are also to be taken forward for resolution besides specific issues pertaining to officers and workmen are also to be concluded.
4. Responding to the submissions made by the representatives, Chairman Negotiating committee stated that Fixed Pay + variable Pay + mandate are interlinked as some of the banks are yet to approach the respective boards. On 5 day week, though it is flagged off, there is no forward and favourable movement. Though there is no mandate from banks to discuss the post retirement issues, still steps have been initiated in the matter of family pension; however on updation of Pension, the corpus required is more or less equal to the total wage bill. It was suggested to have a small committee constituted for the purpose of discussing the inputs related to Variable Pay, as part of current wage revision. The end result is issues are interlinked.
5. INSURANCE BACKED HOSPITALISATION SCHEME: In the earlier round held on 19th June 2019, the plan of action to have a unquestionable way to finalise the issue was shared with unions by IBA, based on the questionnaire and responses received from the member Banks. In this round of discussion Team IBA informed that 3 Public Sector Insurance companies and 5 private sector Insurance Companies have responded to the tender floated for the introduction of scheme as per the present terms of settlement and Joint Note signed by the organisations with IBA, to cover in service employees and past retirees. The decision related to the quantum of premium is to be decided upon, with required safety clause to benefit the total work force, past and present. There was a power point presentation by the service provider for easy access of the details through technology intervention to benefit the policy holders under medi-claim policy.
6. UFBU MEETING: In the meeting held our organisation was represented by Com.Narendra Kotiawala, Dy.Gen.Secy, Com.V.Ramabhadran, Convenor Wage Committee and Secretary, Com.V.Viswanathan State President AIBOA (MSC) besides the undersigned. It was decided in the meeting that the representatives will meet at Delhi on 11/09/2019 to decide the collective approach on interlinked issues ie Fixed Pay + Variable Pay + Mandate.
To conclude, it is so near but still so far........................................
Yours Comradely,
S.NAGARAJAN.
GENERAL SECRETARY.
---
Circular No.13/VII/2019
July 19, 2019
To:
ALL UNITS / STATE COMMITTEES
Dear Comrades,
FIVE DECADES OF EXPERIENCES OF BANK NATIONALISATION.
COUNTRY BELONGS TO MASSES NOT TO BUSINESS HOUSES.
The historical move initiated by Mrs.Indira Gandhi of Nationalisation of Private sector Banks on 19th July 1969 was hailed as one of the bold step, which had triggered the political turmoil in our country. In her broadcast to the nation on 19th July she said:
"As early as December 1954 Parliament took the decision to frame our plans and policies within a socialist pattern of society. Control over the commanding heights of the economy is necessary, particularly in a poor country where it is extremely difficult to mobilise adequate resources for development and to reduce inequalities between different groups and regions"
Further she explained these objectives as follows:
a. a.Removal of control by a few; b. Provision of credit for agriculture, small scale Industries and export, c. Giving a professional bent to management of banks, d.Encouragement of new classes of entrepreneurs, e. Provision of adequate training as well as terms of service to bank Staff.
In the post independent India, there were 97 Scheduled Banks, one Imperial Bank of India, 51 exchange Banks and 81 other banks with a deposit base of Rs.2000 crores The banking system was limited both in numbers and service terms too. Today the entire scenario has changed in terms of number of banks and also services, rather it is increasing on a continuous basis. Today 149 scheduled banks with 1,40,133 bank branches. A total business mix of Rs 200 lacs crores is handled by the banking workforce. In terms of services, today we have one bank branch for every 10000 as against 1,00,000 at the time independence.
Indian banking sector responded well and remained strong during the tough times of Asian Economic Crisis in 1997 when many Asian countries were in turmoil facing currency shortages and credit crisis etc. The sub prime crisis of 2008 which critically affected the western world, our Nation's immunity level was high and the global disturbances never affected our sector. While developmental economies suffered, Indian economy did not. All round appreciation from International print media was accorded to Indian Banking system.
The period from 1946 to 1969 the banking was under private sector control and 1969 to 1992 the banking sector was more or less under public sector control. Neo liberal economic policies adopted by the Government of India did not exclude our sector too. Acquiring the capital from the private hands was forcefully attempted to begin with State Bank of India, followed by Oriental Bank of Commerce etc. When our nation suffered the balance of payment crisis, we further succumbed to International monetary agencies conditions. Merger of New Bank of India with Punjab National Bank was the first one that happened where equity holding of Government of India was 100%.
Government of India constituted committees to go into the details of performance of the public sector Banks and the recommendations of both the committees were not enlarging the public sector philosophy for which the Nationalisation of Banks was made. The process of pricing the loans even for Agriculture Sector, dismantling of development financial Institution, reduction of exposure limit to priority sector, and merger of Banks etc are the specific recommendations. Our collective resistance through oft repeated strike actions postponed the implementation but could not halt the same.
It is cause of concern that such a strong, efficient, strategic Banking System of our Nation now face negative analysis and is being shown in poor light. It was late Com.Tarakda, the then General Secretary AIBEA on 4th September 1997, published the first volume of bank defaulters list at New Delhi, urging upon the Owners of the Public Sector Banking to take urgent steps to arrest the situation. The owners were unable to visualise the situation at that point of time with required urgency. Non Stop growth of NPAs and also increase in number of frauds committed by corporates are seriously disturbing the citizen of this Nation.
The questions arise in the context of finding justifications as to how far banks can go on writing off debts in the name of following business practices and also instructions of the controller of the Banking System? Banks, as Trustees of Public money, collect deposits from Public and operate their banking business. In the name of prudential norms and regulations, how can a Bank defend itself be decorating its Balance sheet at the cost of Public Money and interest? Banking is nothing but credibility that is created among the Public.
The position of the Banking system aimed at consolidation exercise. It started with the Associate Banks ie 2008,2010 and 2017 with State Bank of India. The parent bank suffered on many counts. But the wrath was passed on to the customers. One of the quarterly profit figure published by the Bank was on account of levying the charges for utilising the ATMs etc. The next dose of Mergers have been rolled out on 17th September 2018, even without consulting the temple of democracy.
The sudden announcement of demonetisation on 8th November 2016, introduction of FRDA bill and also its abrupt withdrawal by the Parliament, Enactment of IBC code where hardly 5 to 10% of recovery from wilful defaulters and long queue before the NCLT by the corporatesy to declare themselves as insolvent are of serious developments that we are witnessed.
We, banking workforce, took the responsibility of financial inclusion and added nearly 22 crores accounts crossing the deposits collected Rs 1,00,000 crores under government announced scheme. Apart from this, all schemes introduced by the Government to uplift the citizen to a reasonable living are handled by us. Prominent amongst them is Mudra loans, will it be of a repeat exercise of 1978 scheme loan melas and subsequently loan waivers?
It is said that " Trade unions are instruments for Social Change". The first trade union of Bankmen in pre independent India , as envisaged in the foundation conference on 20th April 1946, fulfilled its objectives of Nationalisation of Banks, making the class Banking to mass Banking. AIBOA hails the journey of Bank Nationalisation and its Success in 50 years to benefit the people at large. To conclude:
"Each of us can look back upon someone who made a great difference in our lives, some one whose wisdom or simple acts of caring made an impression upon us. In all likelihood it was someone who sought no recognition for their deed other than joy of knowing that, by their hand, another's life had been made better"
-Stephen M.Wolf-
We bow our heads in the memory of founding fathers of great trade union movement of bankmen in pre independent India for their commitment to convert the pains of struggle as a result oriented one. Public Sector Institutions are nation Building Instruments. It has to be preserved, protected and promoted.
Yours comradely
/S.NAGARAJAN/
GENERAL SECRETARY
---
Circular No.12/VII/2019
July 7 , 2019
To:
ALL UNITS / STATE COMMITTEES
Comrades,
ISSUES RELATED TO PENSIONERS
HISTORY TO BE REVISITED
Social media is used, misused and abused by one and all and retired Bank employees are also equally active. One of the prominent question that is often raised was that why pensioner's issues are not taken up with the IBA a representative body of the Bankers, by the nine constituents in the wage talks.
Let us turn the pages of history to rekindle our memory.
In the background of RBI employees getting the "Pension in lieu of Provident Fund", the need was felt to raise the demand of Pension and clinch the same with utmost care and urgency. When it was demanded to be included as an issue in the second joint note exercise for officers by the AIBOA Founder General Secretary Com.P.K.Menon, we were left alone, and resultantly did not sign Joint Note in 1989, due to non inclusion of the demand for meaningful resolution.
Pension in lieu of Provident Fund
Comparing the Pension scheme available in State Bank of India, there were serious debates, whether "two" retiral benefits are beneficial or "3" available in SBI was best. But it was AIBOA that spearheaded the campaign that "two" is always beneficial than "3" and finally established its supremacy in clinching the introduction of pension on 29th October 1993 with effect from 1st January, 1986. Claiming superiority, Banking workforce, some of them misguided by the then "JAC" [Joint Action / Attack Committee] exercised the option in favour of DA upto 1148 points scheme in which DA was credited to PF account of the non-optees... The first settlement signed on 29th October 1993 was without any extra contribution to pension fund ie; 10% of Basic Pay
One more option achieved in 2010 – with additional contribution by PF optees:
The Government of India was adamant in considering the one more option, the corpus required was stated to be Rs.26000 crores by GOI. A committee was constituted by IBA with two independent actuaries one from Hyderabad and another from Kolkata along with 9 UFBU representatives to arrive at the mutually accepted pension corpus of Rs.6000 crores
To get back to same scheme of 1993 after 17 years ie; 2010, out of the additional corpus of Rs.6000 crores, Rs.4200 crores was credited to pension fund to extend Pension cover to serving employees 2,65,000 and 65,000 retirees. Thus pension became a reality. When an officer was inflicted with compulsory retirement, he / she was not extended the option in the year 2010. It was AIBOA, which took steps to secure the cover for "compulsorily retired" officer under pension scheme too.
As on date, there are few important issues concerning the retirees.
a. a. Family Pension
b. b..100% DA for the retirees, retired on or before 01.11.2002. [Supreme court dismissed the case]
c. c.Updation of pension
d. d.Insurance backed hospitalisation scheme
In the history of wage negotiations, it was on 25.05.2015, the record note was signed by the nine constituents covering many issues including the above listed one. In addition to the Record Note of 2015, retirees prior to 1986, they are being paid an ex-gratia of meagre amount with the approval of Government of India. The number of retirees being few and also aged 93 years, the amount of exgratia needs to be enhanced.
One thing all of us should appreciate that when the serving employees issues are moving in a snail pace, there is a need to have restrain in expressions in the social media by the retirees. Getting the family pension settled gains importance and priority besides the updation of pension on account of RBI getting the nod from Government of India in the first week of March 2019, as there exists minutes of 1994 on record between both the parties.
The existing pension corpus also includes employees' recruited upto 31.03.2010. While the expectations are genuine, we should also develop patience to clinch the matter, without comprising the set of rules meant and established over a period of time.
Efforts are sincerely made to realise the above demands. Equally patience is the need of the hour.
Yours comradely,
/S.NAGARAJAN/
GENERAL SECRETARY
---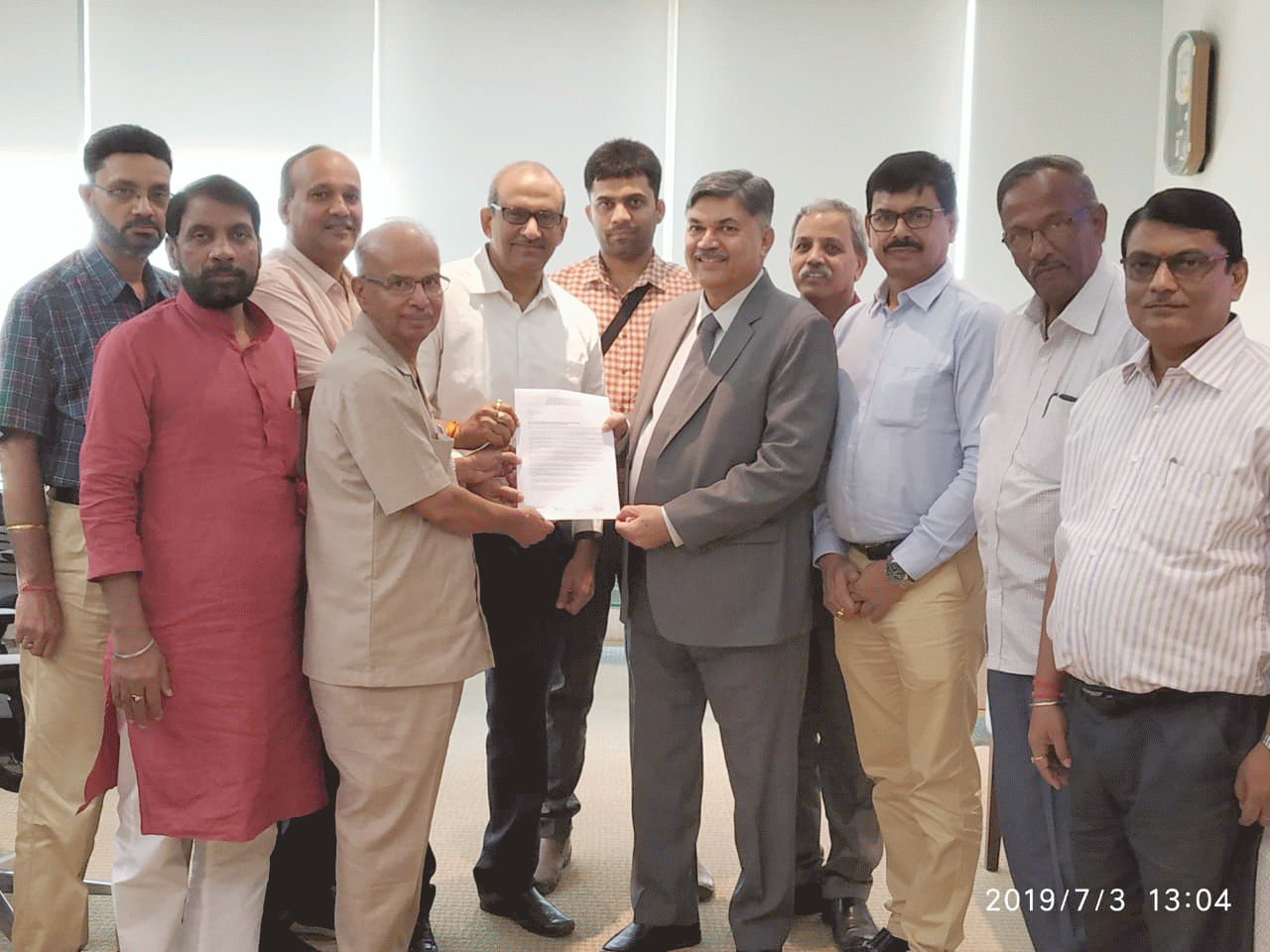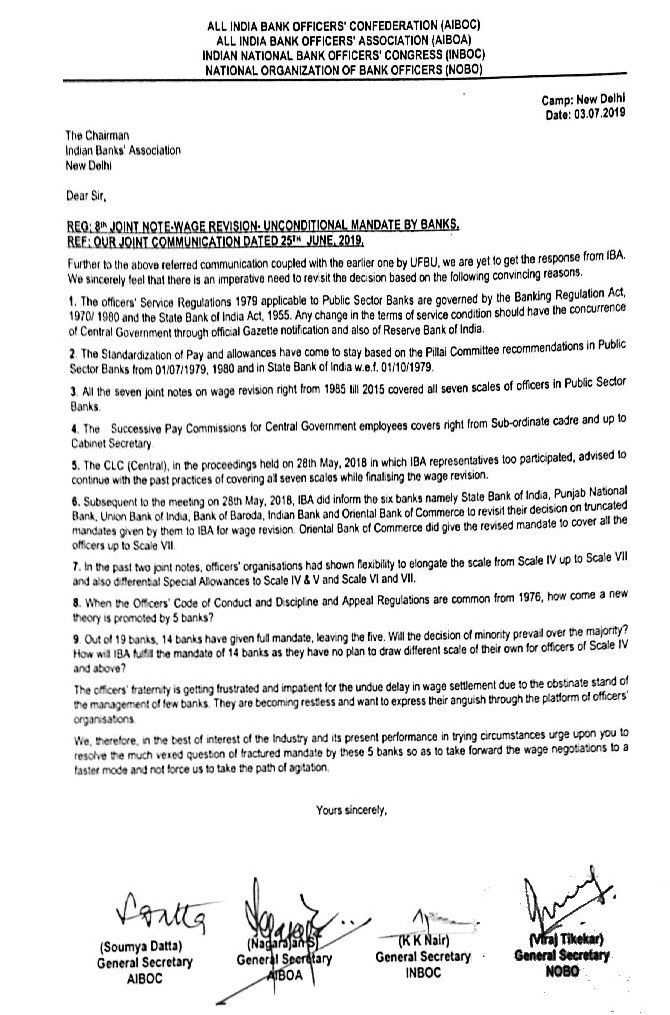 Circular No.11/VII/2019
June 25, 2019
To:
All UNITS / STATE COMMITTEES
Comrades,
WAGE REVISION - STALEMATE.
Vide our circular dated 19th instant issued from Mumbai, it was informed that offer of covering up to Scale V officers in all Public Sector Banks is hanging in balance due to unacceptance by all organizations. Out of the three essential ingredients of wages viz. Date of effect, Merger of D.A. for construction of New Pay scales and quantum in % terms, the first two are already agreed upon and the third one is yet to be arrived at. So far, the proposal offered is 10% Fixed Pay and 6% variable pay by IBA. Variable Pay as stated is linked to Profit earned and return on Assets of the individual Banks. In a service Industry like banking, variable pay is not going to benefit uniformly and promotes discrimination. Hence, our organization is opposed to it.
In the background of latest stand of I.B.A, the four officers' organizations held a meeting at Bengaluru to take stock of the situation for taking forward the issues for a meaningful conclusion to benefit the entire banking workforce. Our organization was represented by Com.Alok Khare, Vice Chairman, Com.A.N.Suresh, President, the undersigned and Com. V.Ramabhadran, Secretary and Convenor Wage revision committee. After a threadbare exchange of information's amongst the representatives, it was decided to place before The Chaiman IBA for redressal of the much vexed issue latest by 02/07/2019 so as to enable the organizations to participate in the exercise of wage revision. The said communication is appended herewith.
We shall keep the units informed of the developments.
Yours comradely,
/S.NAGARAJAN/
GENERAL SECRETARY
==========================================================================================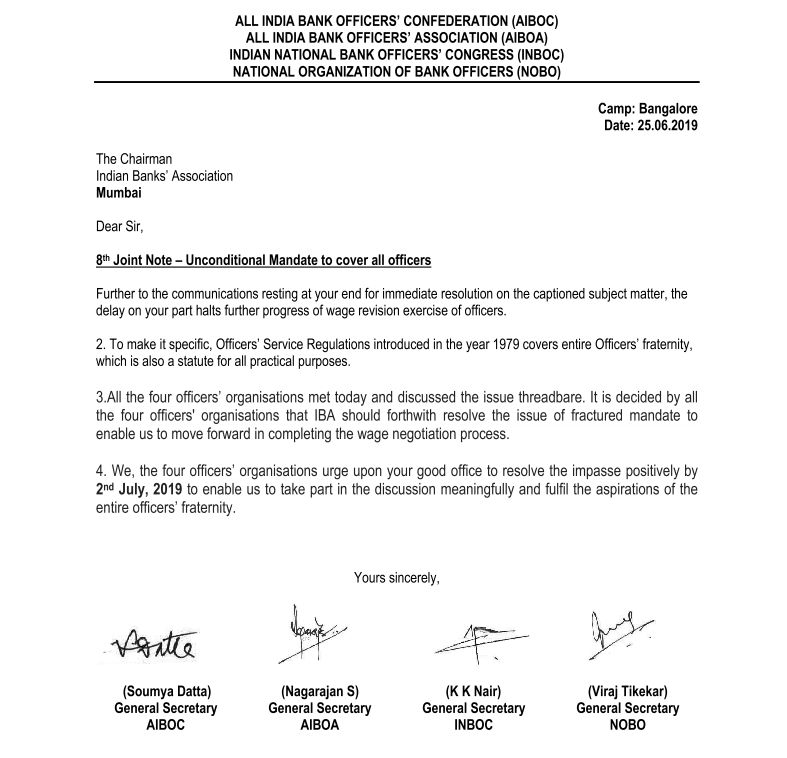 =========================================================================================

Circular No.10/VII/2019

June 19, 2019 Camp: MUMBAI.

To:

ALL UNITS / STATE COMMITTEES

Dear Comrades,

WAGE NEGOTIATION TALKS WITH IBA.

After lapse of nearly three months, IBA invited the UFBU for a discussion today at IBA Office, Mumbai. IBA was represented by Shri.Rajkiran Rai, Chairman Negotiation Committee IBA(UBI), Shri. Alok Kumar Chaudhary(SBI), Shri.V.G.Kannan, CEO, IBA, Shri.B.Rajkumar Deputy CEO IBA, Shri.S.K.Kakkar, Advisor IR &HR IBA , besides staff of personnel department of IBA.

Shri. P.S.Jayakumar(BOB), Shri.Shyam Srinivasan(Federal Bank),Shri.M.K.Jain(OBC) and Shri.R.A.Shankaranarayanan(Canara Bank) were participating through Video Conference. Representatives of Seven Organizations participated in the discussion. The undersigned participated in the discussion.

Chairman Negotiating Committee outlined the purpose of the meeting so as to know the stand of the two Officers' Organizations in the matter of participation in the negotiation. In response , Convenor, UFBU submitted a letter addressed to Chairman IBA and Chairman Negotiation Committee of IBA , reiterating that the negotiation should cover up to scale VII Officers. It was also expressed that in the earlier round held on 22.02.2019, IBA offered to cover up to Scale V, though the mandate given earlier by the 5 Banks were up to Scale III only.

IBA in response to the submission made, expressed that it was an offer made and the acceptance was not forthcoming as it is reflected by their absence. It was also made very clear that the five workmen unions will participate in the negotiation for arriving at agreement under ID Act. It was also expressed clearly that, in the past when the officers' organizations had not participated in the discussion, still IBA did engage themselves to arrive at the understanding with the officers' organizations.(One in 1989 and another in 2010-one more option for Pension)

On common issues concerning both the section of the workforce, it was reiterated that the discussions should be continued to be held with all the seven constituents of UFBU. IBA has indicated its preparedness to discuss the common issues and also willing to share the details related to record note dated 25.05.2015. In addition, the discussion on Insurance backed Hospitalization scheme was also held in the post lunch session. IBA will be taking up the issue referred herein above in the ensuing meeting scheduled to be held in the last week of this month and assured to fix up the dates for further exchange of informations. The discussion was more of explanatory in nature.

We note to convey the developments in due course.

Yours comradely,

/S.NAGARAJAN/

GENERAL SECRETARY

==============================================================

===========================

Circular No.8/VII/2019

April 15, 2019

To:

ALL UNITS / STATE COMMITTEES

Dear comrades,

FOOTPRINTS IN THE HISTORY

To begin with,

It is all the more relevant to look back how the workers of India was placed in the pre-independent India.

"In those days, it was jungle law that prevailed. There was no limit on hours of work. Men, women and children were headed in these dens of capital to work and children were hearded in these dens of capital to work from 12 to 16, 18 and even 23 hours per day. There was no Sunday, holiday, no starting or closing time. Children of 5 to 6 years of age worked full time like the grown ups and when they died or were maimed in the machines, there was no value for their life or limbs."

On the foundation of AITUC – 31.10.1920 …

" The time has come for you to assert your right as arbiters of your country's destiny. You can not stand aloof from the stream of national life. You can not refuse to face the events that are making history today for India. You are the mass of the population. Every movement on the political chess board, every step in the financial or economics arrangements of our country affects you more than it affect any other class. You must became conscious of your responsibilities to realise you destiny. Workers of India, the earth is your common heritage. It is not specifically reserved for professional politicians or the Shimla bureaucrats or the mill owning plutocrats. Your nation's leaders ask for Swaraj, you may not let them leave you out of the reckoning. Politics freedom to you is of no worth without economic freedom. You can not therefore afford to neglect the movement for national freedom. You are part and parcel of that movement. You will neglect it only at the peril of your liberty"

= D CHAMAN LALL =

The central nerve system of any country is the financial system and the same should be under the absolute control of Government at the centre. The system handled by the private Bankers in pre nationalisation period led to a collapse because of mismanagement, manipulation, diversion of deposits to non financial activities, inexperienced executives and influx of refugees. It was on 15th April 1961, Government notified amendments to Sec.45 of Banking Companies Act ensuring job continuity and security for employees on merger of various private Banks due to efforts taken by AKBEF. The glorious step of securing the job by the first trade union of Bank men in pre-independent India, is also relevant today.

The trade unions are instruments for social change. A Bank worker of pre-independent India of "brick and mortar group" and present generation of Bank worker of "Techno-savy" group, the change has been brought in their life pattern and also security of jobs is purely due to the indomitable urge and sacrifice by the founders of his great organisation. Challenges of different nature are confronting the workforce. Artificial Intelligence has entered the Banking services to cut the cost on human employed by the management.

The successes accrued to this organisation are the results of the combined efforts of each individual working, for them, trade union was their lifeline.

"My nest is burnt, Yet I am happy

For it has spread the light to some extent

And dispelled darkness

=H.L.Parvana=

The towering leader of working class, the lifeline of AIBEA upto 18th April 1975.

Our organisation born out of compulsions of post emergency times, salutes the founders of the first trade union of Bankmen established in pre-independent India on the banks of River Hoogly on 20th April 1946, which is entering the 74th year of purposeful existence.

Our revolutionary greetings to Bankmen under the glorious banner of

AIBEA

Yours comradely,

/S.NAGARAJAN/

GENERAL SECREGARY
---
Circular No.7/VII/2019
April 14, 2019
TO
ALL UNITS/ STATE COMMITTEES .
Comrades,
A NEW STAR HAS BORN TODAY
BANK OF BARODA OFFICERS' UNION HAS COME INTO EXISTENCE.
In pursuance of the notice issued by the Central office of our organisation dated 30th March2019, a meeting of the representatives of erstwhile Vijaya Bank Officers' Union (VBOU) and All India Dena Bank Officers Union [AIDBOU] was held at Bengaluru (KARNATAKA) on 13th and 14thApril, 2019. Com.A.N.Suresh, President of our organisation conducted the proceedings of the meeting.
2. The meeting was attended by Com.K.Raghava, Secretary, AIBOA, Com.H. Chandrasekara Shetty General Secretary AIBOA, (Karnataka State Committee), Com.A.B.Shetty, founder General Secretary VBOU and Com. K.Viswanath Naik Advisor VBOU, besides the undesigned.
3. The proceedings commenced with a brief introductory cum welcome address by Com.K.Srinivasa Rao, General Secretary VBOU. Com.A.N.Suresh, President AIBOA initiated the discussion detailing the purpose of the meeting and also the need to tackle the new emerging situation in the new entity, which has come into existence with effect from 01.04.2019. Following the presentation, the undersigned supplemented the need to address issues confronted by the officers in the new entity and also the experience of the merger earlier initiated by the Government pertaining to the five associate Banks merger with SBI with effect from 1.04.2017. The AIBOA's stead forward approach in challenging the Alternative Mechanism of the Government in taking forward agenda of merger of Banks in a fast forward manner brushing aside the provisions of the Banking Regulations Act 1970/1980 was appreciated by the participants.
4. Com.Srinivasa Rao, General Secretary VBOU addressed the participants about the consistent struggles to get the benefits to the officers in Vijaya Bank whereas the other organisation was a mute spectator to various developments. Com.Neeraj Srivastava, President, AIDBOU and other representatives of All India Dena Bank officers Union too presented their experience and their efforts to fight back the menace of the Bad loans in Dena Bank in a planned manner.
Com.K.Viswanath Naik, founder General Secretary of VBWO and presently DGS AIBRF, shared his experience in a brief way and appealed to every one to undertake the task of building the organisation with oneness.
Com.K.Raghava, Secretary AIBOA, President of the AIBOA(KSC) and Convenor of the Private Sector Bank Officers' Forum addressed the participants the necessity to come together as a strongest unit of officers in Bank of Baroda.
After a detailed deliberation, the following decisions have been arrived at unanimously;
a. The amalgamated entity will function from Bengaluru, from the erstwhile VBOU HQ.
b. The subscription varying from Rs 100 to Rs 200/ per month agreed to standardise the same @ Rs 180/- per month per member and remitted to Central Office of the new entity functioning from Bengaluru.
c. The subscription received from the members will be shared @ Rs 100, Rs 40 and Rs 40 to Central Office, Zonal and Regional Units respectively.
d. Out of the 9 units of AIDBOU, the registered units numbering three will take steps to amalgamate the units as per the provisions TU Act 1926. Remaining units will initiate the required steps to dissolve / amalgamate by adopting a resolution in the meeting convened for the said purpose.
e. The accounts of the individual units will be closed after the receipt of the current month subscriptions ,with net amount to be remitted to the central office at Bengaluru.
f. An amount equal to the amount remitted to Central Office may be drawn as an advance by the Zonal Units for smooth functioning. Proper submission of bills against the advance availed by the units is prerequisite for effective functioning of the units with Accountability.
g. After mutual consultations amongst the participants, the representatives were entrusted the responsibilities in the Zonal Units as Presidents and General Secretaries. [ List is enclosed]
With these, the first day proceedings came to conclusions at 19.40 hrs and adjourned to next day.
SECOND DAY PROCEEDINGS:
On 128th birth anniversary of Dr.B.R.Ambedkar coupled with the New Year of three States the second day proceedings commenced at 09.30 A.M under the Presidentship of Com.A.N.Suresh to give a final shape for the new organisation in the name and style of Bank of Baroda Officers' Union. While taking the confirmation of the proceedings of the previous day decisions, the next agenda of formation of the amalgamated entity of erstwhile VBOU and AIDBOU was taken up. With the consent of the all participants the office bearers were entrusted the responsibilities of conducting the affairs of the BOBOU. [List is enclosed]
The new logo of the organisation was unveiled by Com.A.B.Shetty, Founder General Secretary of VBOU and advised the banner of BOBOU has to be preserved as an apple of eye and taken to greater heights in BOB.
It was decided to take up the issue of Check Off facility and also closing the disciplinary actions cases of non financial in nature of members of both organisations so as to enable the officers of BOBOU to focus the attention in Bank building activities.
The second day session had the final and finer touch given by Com.H.Chandrasekara Shetty, General Secretary AIBOA(KSC), of his best wishes for the growth of the organisation, with the induction of youngsters as office bearers, as their future is interlinked with BOBOU. Com.Vinay Kumar, Joint Secretary, AIBOA presented his view points on NPS to be taken up in the negotiations by AIBOA.
Well began is half done, thus the roaring entry of our organisation in Bank of Baroda had commenced.
Yours comradely,
/S.NAGARAJAN/
GENERAL SECRETARY.
BANK OF BARODA OFFICERS' UNION
LIST OF ALL INDIA OFFICE BEARERS
| | | |
| --- | --- | --- |
| S.No. | POSITION | NAME – Com. |
| 1 | PRESIDENT | Neeraj Srivasta [UP] |
| 2 | VICE PRESIDENTS | Rupesh Jha [UP] |
| 3 | -do- | Shivamanohar [AHD] |
| 4 | -do- | S.S.Dhaia [ROHTAK] |
| 5 | -do- | Gulshan [MAHA] |
| 6 | GENERAL SECRETARY | K.Srinivasa Rao [KAR] |
| 7 | ORG.SECRETARY | Vinay Kumar[HQ] |
| 8 | SECRETARY | Lokesh Mishra [RAJ] |
| 9 | DY.GENERAL SECRETARIES | Daulall Tak [DELHI |
| 10 | -do- | Kishore Adappa [Mumbai] |
| 11 | -do- | Rajagopal[AP] |
| 12 | -do- | Vipin Verma [Gujarat] |
| 13 | JOINT GENERAL SECRETARIES | Vijaya Sarathy [AP] |
| 14 | -do- | Kumar Naik [KAR] |
| 15 | -do- | Naresh Gandhi[AP] |
| 16 | -do- | Mandaiwalesh[KAR] |
| 17 | -do- | Navin Dixit [MP] |
| 18 | -do- | Saurubh Singh [UP] |
| 19 | -do- | Neeraj Gupta[Delhi] |
| 20 | -do- | Milind Palkar[Maha] |
| 21 | -do- | Kundan Kumar Shah [Bihar] |
| 22 | -do- | Ms.Priya Vyas [MP] |
| 23 | -do- | Mukesh Bassi [Punjab] |
| 24 | -do- | Vikas Kumar [Raj] |
| 25 | -do- | Amrut Pradhan [KOL] |
| 26 | TREASURER | Manish K.Chauhan [KAR] |
| 27 | ASST.TREASURER | Arup Jothi Bhara Thkar [Kar] |
1-SVP and 3 Joint General Secretaries Post kept vacant
BANK OF BARODA OFFICERS' UNION
ZONAL UNITS' PRESIDENTS AND GENERAL SECRETARIES
| | | | |
| --- | --- | --- | --- |
| S.No. | ZONE | PRESIDENT-Com. | GENERAL SECRETARY-Com |
| 1 | Delhi | Daulall Tak | Pradeep Gupta |
| 2 | UP | Neeraj Srivastava | Rakesh Trivedi |
| 3 | Bihar | Mukesh Kumar | Kundan Kumar Shah |
| 4 | MP | S.P.Tripathi | Paramanand Kag |
| 5 | Gujarat I | Hargobind Hasrajani | Sanjay Bhatt |
| 6 | Gujarat II | Ms.Aahuti Garg | Vipin Verma |
| 7 | Maharashtra | Kishore Adappa | Milino Palkar |
| 8 | Punjab | Bimaljet Singh | Jasbir Singh Devgon |
| 9 | Rajasthan | Namaram Tak | Lokesh Mishra |
| 10 | Kolkata & NER | Subrat Kumar Dev | Manik Chatterjee |
---
Circular No.6/VII/2019
March 28, 2019
To:
ALL UNITS / STATE COMMITTEES
Dear comrades,
MERGER OF BANKS OUR CASE IN SUPREME COURT
Our organisation, taking into consideration the various emerging situations, with due consultation with our legal counsel filed an interim application, as the earlier application filed in the Hon'ble High Court of Rajasthan, Jaipur Bench was listed for hearing originally on April 4th, 2019 by the Supreme Court of India. The main contention in our interim application was the legality linked to the whole process of merger exercise of Alternative Mechanism, a new apparatus, has been used to substitute the Parliament procedure ie; to lay the proposal of amalgamation or merger before the both houses of the Parliament.
2. In our Interim Application filed before the highest court, non of the respondents have filed any written reply till date. The case was listed on 26th March, 2019, as the last item in the list. Our Counsel mention the same before the Hon'ble Justice R.F.Nariman and Justice Vineet Sarin citing the urgently of the matter and the same was listed for hearing today morning.
3. Today the case taken up for hearing and the legality involved in the process was not answered. Mr.Tushar Mehta, Solicitor General of India appeared for the Government and Mr.Mukul Rohtgi, former Solicitor General of India represented Bank of Baroda. They argued that as the three Banks are under Public Sector, the service conditions are identical in content and nature and employees' interest are not going to be adversely affected, hence our prayer for Interim order has not been considered favourably. However, the hearing on our Writ Petition will continue in due course after the reply is submitted by the Government / respondent Banks.
4. Our organisation has taken right steps to thwart the merger exercise in the best possible ways, as the merger of Banks is the only issue remaining unimplemented agenda of Narasimham Committee I and II. Reduction of Branches, transfer of workforce and arresting the future employment are the serious direct fall out of this unchecked exercise of the Government.
Our fight both legally as well as organisationally will nevertheless continue against Bank mergers.
In the meantime comrades are called upon to consolidate our membership in the new entity for effective safeguarding of our interest.
Yours comradely,
/S.NAGARAJAN/
GENERAL SECRETARY
=========================================================================================
Circular No.5/VII/2019
March 4, 2019
To:
ALL UNITS / STATE COMMITTEES
Comrades,
OFFICE BEARERS MEETING AT HYDERABAD – 03.03.2019
DECISIONS ARRIVED AT
An urgent office a bearer meeting of our organisation was convened at Hotel Central Park,Hyderguda, Hyderabad on 03.03.2019 to take the stock of emerging situations and roll out a plan of action to address the issues confronting the officers' community as a whole.
2. The proceedings were conducted by the Joint Presidium – Com.Alok Khare, Vice Chairman and Com.A.N.Suresh, President and commenced at 10.35 am.
3. The leave of absence was granted to Com.Narendra Kotiawala, Dy.General Secretary, Com.Vinod Sharma, Com.D.N.Trivedi, Com.Giri Srinivasa Rao and Com.Rajesh Tiwari Joint Secretaries as they were held up with certain prior commitments.
4. After the welcome address by Com.V.Anil Kumar, General Secretary, AIBOA – AP & T State Committee the meeting commenced its proceedings.
5. IN MEMORIUM: The house observed two minutes silence in the memory of the "40" CRPF Jawans killed by the terrorist outfit at Pulwama and other martyrs after Pulwama attack and also Com.G.Gunasekaran, Treasurer of our organisation.
6. While placing developments right from last CC held at Mamallapuram on September 8-9, 2018, followed by the Secretariat Meeting held at Mumbai on 13.10.2018 and State Presidents and General Secretaries meet at Jaipur on 17.11.2018, the programme unleashed by AIBOA right from "Postering Campaign", programme observed by the nine constituents culminating in a day's strike and escalating to judicial intervention with the present status of the case before Supreme Court of India were placed.
One more focussed presentation was on the present stand taken by other two officers' organisations in the last two rounds of discussions with IBA, on the issue of "fractured mandate". The information related to the interaction with General Secretary AIBOC at Kolkata [24.02.2019] and also with General Secretary NOBO at Chennai [27.02.2019] were also informed. Com.V.Ramabhadran, Secretary, AIBOA, who is also the Convenor of the Wage Committee, presented details pertaining to the current status of the wage revision, as per the advice of the Joint Presidium, for the benefit of the office bearers / participants.
7. On the both issues, a detailed deliberations took place by all office bearers with the following observations.
a. a. While on the Bank merger issue taking to judicial recourse is welcome and necessary step simultaneous campaign to educate Bankmen as well as customers and common people with more details about ill effects of the Bank mergers must continue.
b. b. Wage Revision – On developments relating wage revision it was felt that safeguarding and strengthening the process of bilateral negotiations while making these effective and meaningful is the prime need of the hour. AIBOA must therefore continue it's efforts to evolve cohesive approach to secure expeditious settlement. In regard to Mandate issue while IBA having conceded up to Scale V coverage is a success of negotiating process efforts must continue to secure coverage for all grades of officers as in the past.
8. Office Space Acquired: The meeting held at Hyderabad was after our oganisation acquired a premises in our name on 9th January 2019 and the same was as per decision of the Secretariat. The office space is being utilised by AIBOA-AP & T State Committee and steps taken by Com.V.Anilkumar, General Secretary, AIBOA-AP&T State Committee, was noteworthy.
9. On organisational front, the present status in AIOBOA and AIPSBOF was also reported. Our affiliate in Central Bank initiating steps to arrive at the consensus is eluding final conclusion / fruitful execution of plans. The IDBI-LIC deal and the Supreme Court decision negating our affiliates prayer was also reported.
10. Constitution amendments/formation of committee: As proposed in our meeting at Jaipur on 17.11.2018, to draw a balanced approach between the State Committee and affiliated Units in its representation in the office bearers team, more emphatically in strengthening the grass root level contacts through District Committee formation etc., a committee has been constituted for amending bye laws of the organisation, to be placed before the ensuing Central Committee meeting.
a. Com.Anil Kumar [AP&T ] Convenor
b. Com.K.Sathyanathan [Kerala]
c. Com.G.S.Oberoi [Haryana]
d. Com.Sanjay Khan [Delhi]
e. Com.D.S.Ganesan [Tamilnadu] and
Com.Arivind Porwal, Vice President, AIBOA will also associate with the committee.
11. Co-Option of Treasurer: Com.R.Jawaher, CC Member, AIBOA, Deputy General Secretary, AIBOA[TNSC] and General Secretary, IBOF has been co-opted as Treasurer of our organisation in the vacancy caused due to untimely demise of Com.G.Gunasekaran former Treasurer. The decision will be ratified in the Central Committee.
Kudos to Team – AP&T State Committee "Captained" by Com.V.Anil Kumar who collectively executed the assignments in a short time provided, flawlessly.
Yours comradely,
/S.NAGARAJAN/
GENERAL SECRETARY
"Small Deeds done are better than
Great deeds planned."
---
Circular No.4/VII/2019
March 1, 2019
To:
ALL UNITS / STATE COMMITTEES
Comrades
MERGER OF BANKS
STATUS OF THE INTERIM APPLICATION
We have informed earlier that on 10th January 2019, Hon'ble High Court of Rajasthan, bench at Jaipur, after hearing our counsel, ordered to "serve the notices to respondents [ie;] Union of India, RBI, Bank of Baroda, Vijaya Bank and Dena Bank] returnable by six weeks ".
One of the respondents Bank of Baroda filed a case in Supreme Court of India for staying the proceedings in Rajasthan and Delhi and other High Courts. The counsel representing the Bank of Baroda is Shri Tushar Mehta, Solicitor General of India along with four others. The case came up on 06.02.2019 and the Bank requested time for filing an application which was granted. It came up for hearing on 08.02.2019, before Hon'ble Mrs. Justice R.Banumathi and Mr.Justice R.Subhas Reddy. The case was slated to be heard on 28.03.2019, an ex-parte stay obtained by Bank of Baroda.
Our organisation, on analysing the developments, engaged Shri P.S.Narasimha, former Addl.Solicitor General, through Shri Pradeep Chaudhary and Shri Ajay Chaudhary, Advocate on record filed an Interim application to hear our case expeditiously as the effective date of merger will be 01.04.2019.
The Interim application filed by our organisation has come up for hearing in the Supreme Court of India today along with other writs also. Upon hearing, Hon'ble Supreme Court has agreed to transfer all writ petitions together to Supreme Court, with the directions to all petitioners to file the copies of other original writ petitions before the Supreme Court by 06.03.2019, with the respondents to file reply by 11.03.2019. On mentioning before Hon'ble Chief Justice of India, a date would be given soonest for final hearing.
One step forward from our end to seek justice from the Highest Court of our Country.
We shall keep you informed of the developments in due course.
Yours comradely,
/S.NAGARAJAN/
GENERAL SECRETARY
---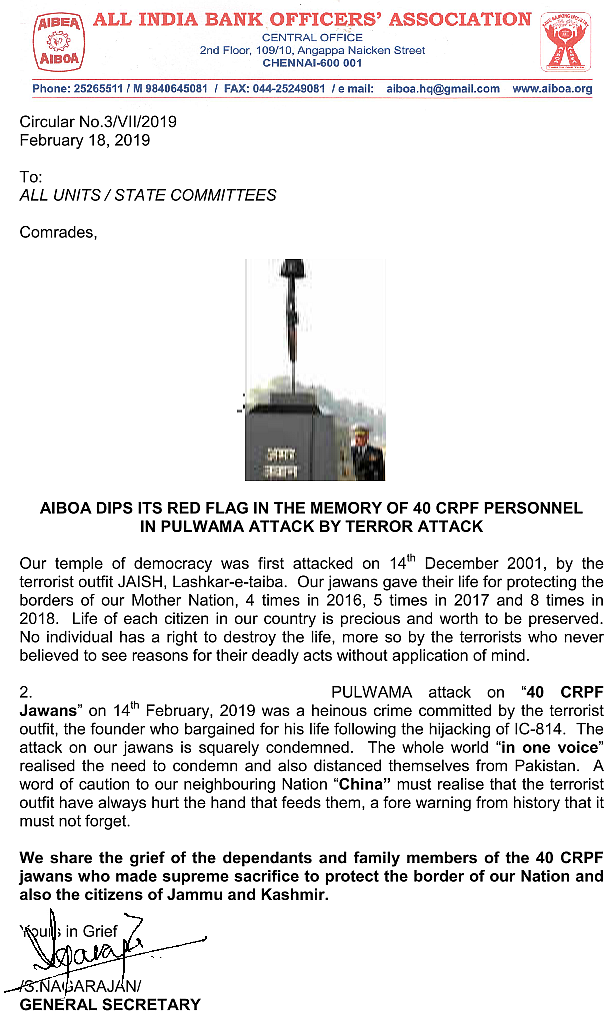 ---
Circular No.2/VII/2019
January 11, 2019
To:
ALL UNITS / STATE COMMITTEES
Dear comrades,
AIBOA SEEKS JUDICIAL INTERVENTION ON
THREE BANKS MERGER
On 17th September, 2018, an apparatus called "Alternative Mechanism" by the present Government at the centre, made an announcement of amalgamation of three banks [ie] Bank of Baroda, Dena Bank and Vijaya Bank and the three Banks' were informed of the decision of the Government of India, to take it forward.
The steps that are to be initiated to achieve the desired goal of amalgamation are :
1. The proposals must start from the Boards of the Banks
2. The decision regarding creating strong and competitive Banks would be solely based on commercial considerations
3. The proposals received from Banks for in principle approval to formulate scheme of amalgamation shall be placed before the Alternative Mechanism [AM].
4. After in-principle approval, the Banks will take steps in accordance with law and SEBI's requirements.
5. The final scheme will be notified by Central Government in consultation with Reserve Bank of India.
The amalgamation of the Banks needs approval from both Houses of Parliament as per the Banking Regulations Act 1970 /1980.
As amalgamation or merger of Banks is not in the interest of people at large, such a step should necessarily be opposed and resisted by Trade Unions.
We have closely observed that the decision has been imposed from the owners and not emanated from the individual Bank's Boards, hence there is need to interfere and also bring it to the notice of the members as well as all concerned in the Banking Industry. An added element is that the provisions of Banking Regulations Act 1970/1980 has not been complied with in full measure.
Our organisation along with Dena Bank Officers' Union sought the judicial intervention by filing a case in the High Court of Rajasthan, at Jaipur. The case came up for hearing yesterday. The Hon'ble judge, while issuing the directions to serve the Notice to the five respondents, returnable in four weeks, made a passing remarks that the provisions of law has not been complied with.
" A thousand miles journey starts with a small and tiny step"
which our organisation has commenced.
We keep to inform the details to all concerned in due course.
Yours comradely,
/S.NAGARAJAN/
GENERAL SECRETARY
---
Circular No.1/VII/2019
January 7, 2019
TO
ALL Units / State Committees
Dear Comrades,
EMPLOYEE STOCK PURCHASE SCHEME:
DILUTION OF GOVERNMENT' S CAPITAL.
Government of India, as a part of New Economic Policy promotion, right from 1992-93, had fallen a trap to Liberalisation, Privatisation and Globalisation ie. LPG. There were recommendations by the Standing Committee for Finance to reduce the Government capital in Public Sector Banks from the present level of 51% to 33%. However, the earlier Government , after returning to power in 2004, the first open declaration made by Dr.Man Mohan Singh was to retain the Government Capital upto 51%, thus the Public Sector character of Banks are still now maintained.
2. The capital can be acquired through three ways : [a]. Thro' Profit Generation [b]. Government providing Capital [c]. Acquiring the capital from the Markets. As bad loans are increasing, provisioning towards that, eat away the profit thus capital is not increased through internal Generation. Government has taken a stand that there are not in a position to provide from the Budget, a policy decision. The avenue available to shore up the capital is to acquire from the market. Before resorting to that exercise some of the banks have now started to float the scheme of Employee Stock Purchase Scheme. Before releasing the capital to the banks, majority unions were compelled to sign a MOU with the Management and in turn submitted to Government for receiving the capital support. There was not even a mention about the move now exercised by the Bank.
3. By purchasing the shares of the Bank by employees, Bank management talk of Sense of commitment to the Bank. They talk about employees' contribution for the progress of the Bank. Further, they talk of sense of feeling ownership. They talk about the sense of belonging to the Bank. They also talk of selling the shares for making profit. These expressions are nothing but enticing the workforce for subscribing to the ESPS.
4. AIBOA, strongly rejects the proposal of the various Bank managements of ESPS. It is nothing but backdoor privatisation of the Public Sector Banks. Instead of initiating steps to recover the Bad loans from the wilful defaulters, these attempts are noting but diverting the attention of the workforce.
Our Organisation directs the workforce not to subscribe for the ESPS proposed by the Bank managements. Don't lend your hands to privatise the Public Sector Banks.
Yours Comradely,
/S.NAGARAJAN/
GENERAL SECRETARY.